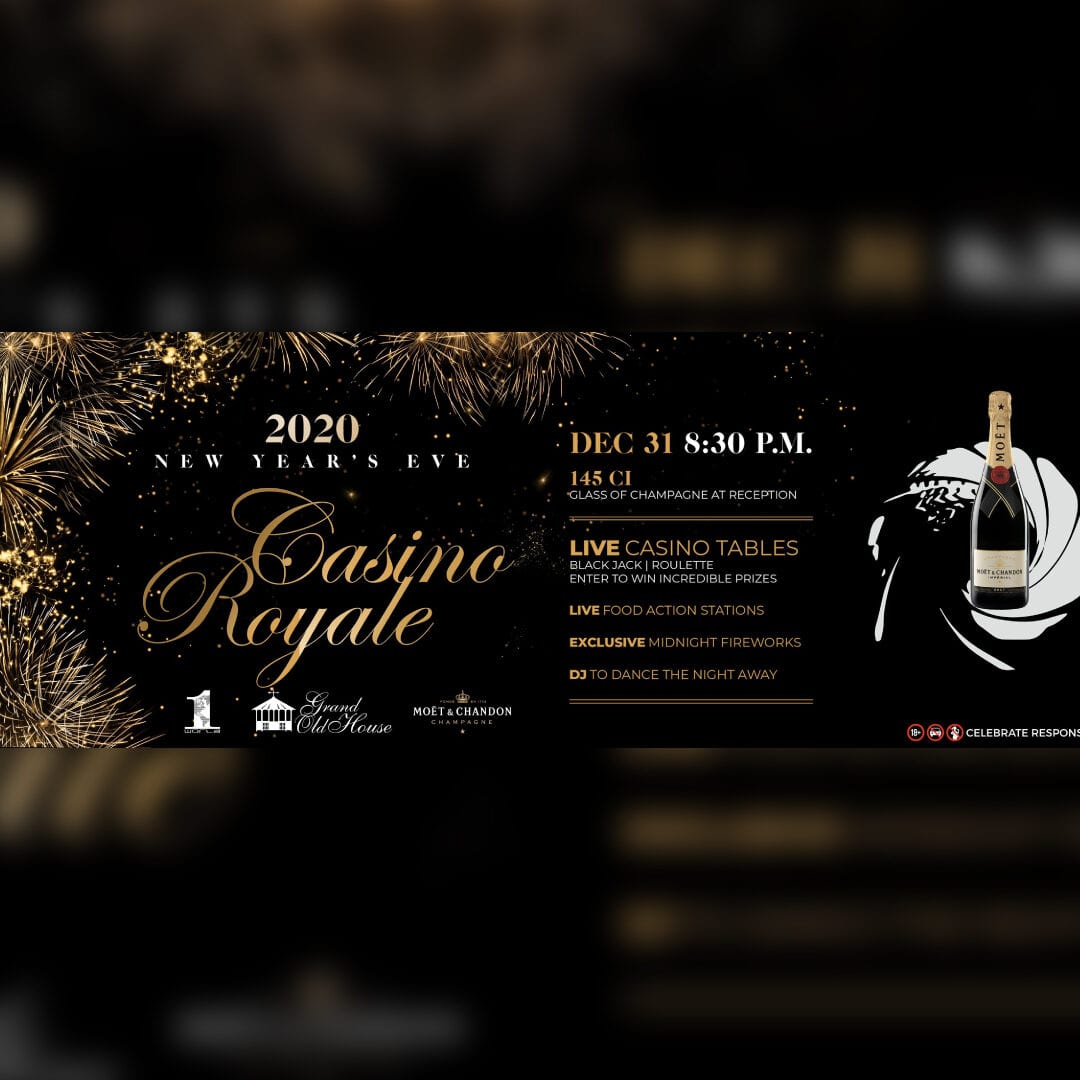 NEW YEAR'S EVE Party at Grand Old House – always Grand and always a night to remember!
This will be an extra sensational party to let the Year 2020 go and welcome 2021 with exclusive midnight fireworks, open hearts and arms, with fresh outlooks and highest positive energy.
You will be welcomed with a glass of champagne, and while you are walking down the red carpet, you can explore the happenings of the night and feel the vibe for yet another incredible New Years Eve Party! Be dressed to impress – James Bond Style and put your chips to use on the staged Casino Tables. Professional Dealers will help you to feel all the thrills and excitement without the risk to the pocket, however your winning chips will convert into incredible prizes that can be redeemed on the night off!
Live Action Stations with an impressive ray of buffets, passionately crafted and staged to entertain and showcase all – for your culinary desires.
Highlights
Casino • Drinks • Food • New Year's Eve • Party
More info
Tel: +1-345-949-9333
info@grandoldhouse.com
The venue
Grand Old House
Before it became THE "Grand Old House" it was a Plantation House. The Caymanians chose to transform it in the first upscale restaurant and a coveted venue for weddings or any kind of events . Award winning chefs prepare Caribbean and International gourmet cuisine dishes, using only the freshest ingredients collected in the day. There's an extensive wine inventory, and a collection of exclusive Cigars to follow a great meal.
Address
648 South Church Street
George Town
Phone
+1 (345) 949 9333 / +1 (345) 949 9333
Email
info@grandoldhouse.com
Website
Highlights
Bar, Disability Access, Extensive Wine Selection, Happy Hour, Kids Menu, Sunset View, Vegan/Veggie Options, Waterfront, Wine Spectator Award
Follow them