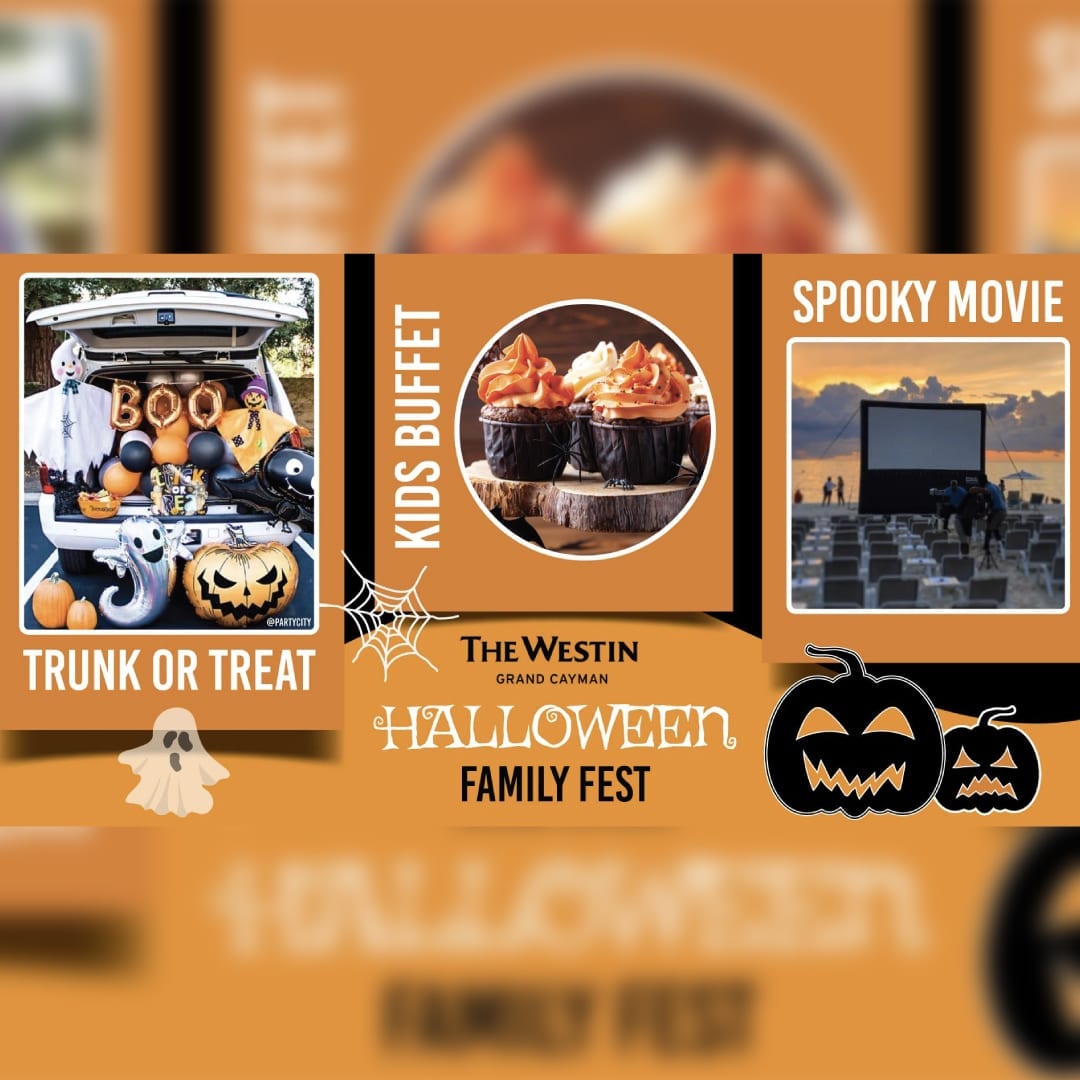 The spookiest time of the year is almost here, and this year we're pulling out all the stops with a whole host of complimentary activities for the local community! Join us at The Westin for a Halloween fest like no other on Saturday, 31 October.
Trunk or Treat 5 PM- 6 PM
We're teaming up with local companies and families to host a SPOOKTACULAR "Trunk or Treat" extravaganza…in our car park!! Come on over and enjoy traditional trick or treating in a safe, exciting, and memorable environment.
Kids Buffet available 6 PM – 8 PM
Trick or treating is hungry work! Head to our pool deck at 6 PM, where a delicious Halloween-inspired buffet will be waiting for the kids. CI $15 per child*, see the menu in "discussion" section of this event. Tortuga Beach Grill and Bar will be open for us big people!
Open-air Movie 6:30 PM onwards
Grab some free popcorn and take a seat on Seven Mile for a complimentary open-air showing of the PG movie "Coco."
Activities and Costume Contest 6:30 PM – 9:00 PM
Head over to our pool deck throughout the evening for a skele-ton of fun with various Halloween activities to join! Don't forget to dress up spooky-style; we'll be picking a best-dressed winner at 8:45 PM.
Reservations highly recommended; contact Reysiel.Tumali@westin-cayman.com or call us on 345 321 5513 to book your spot.
Interested in taking part in our "Trunk or Treat" activity? Car park spaces are complimentary! Contact Elizabeth.Morison@westin-cayman.com to sign up and get ready to kit-out your trunk! The company or family with the best decorated trunk will receive a complimentary beach day at The Westin, including a cabana and a CI $50 gift certificate.
Highlights
Family Friendly • Food • Halloween Party • Kid Friendly • Movie • Trick or Treat
More info
Tel: 345 321 5513
reysiel.tumali@westin-cayman.com
The venue
The Westin Grand Cayman Seven Mile Beach Resort & Spa
Fronting the famous 
Seven Mile Beach
, The Westin Grand Cayman Seven Mile Beach Resort & Spa is in the heart of
Grand Cayman
. Named to Condé Nast Traveler's Gold List, the resort has been recognized for its excellence. With easy access to Grand Cayman's best attractions; including scuba diving, shopping, and golf, guests will enjoy a relaxing getaway.
Address
30620 Seven Mile Beach
Seven Mile Beach
Phone
Email
N/A
Website
https://www.westingrandcayman.com
Highlights
N/A
Follow them