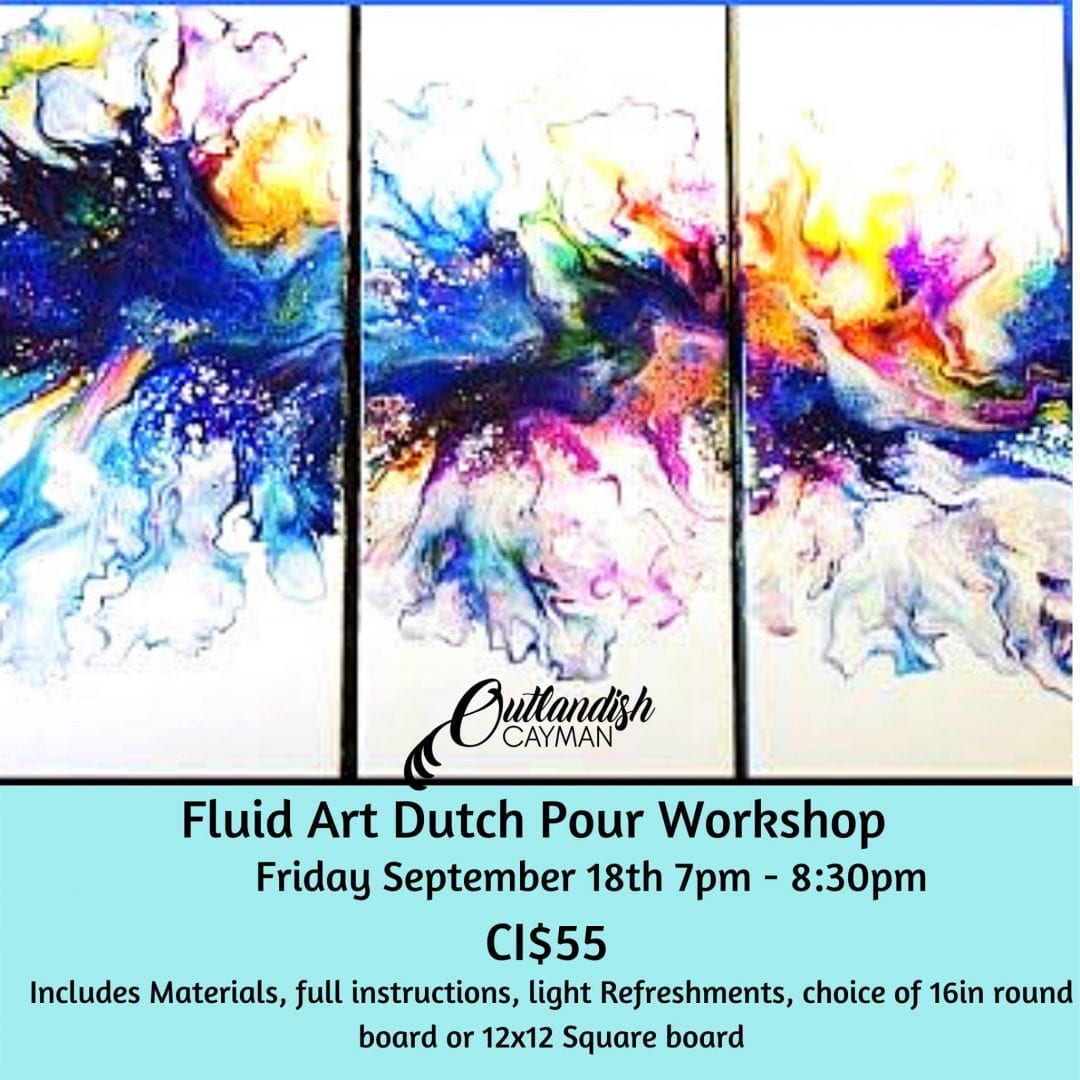 Bringing you a fun, informative and creative workshop where you create your own fluid art piece from start to finish!
In this 1.5 hour workshop you will learn what Fluid Art is, touch on the many mediums and pigments used to create a flow state, the types of canvases and how Fluid art reacts to each, and how to do a Dutch Pour using thin lines of paint and a air gun (LOTS of fun!!)
You have your choice of 16inch round diameter boards or 12×12 boards to pour on. We will demonstrate the technique in the beautiful space in Cayman Handmade Collective which is full of Fluid Art for inspiration!
You will receive full instruction along the way and by the end of this workshop you will have the knowledge to do fluid art on your own to experiment with all the fun and abstract things that can result!
Requires 3 days for drying (1 day for paint to dry, 1 day for Resin to dry) ready for collection or delivery on Tuesday September 22nd, 2020
All materials and full instruction included! As well as light refreshments : Veggie Samosas, Sodas and Sparkling Water.
Venue has amazing parking in the back and is in a convenient location – on the GT Waterfront!
Please Note that Masks are NO LONGER REQUIRED.
Highlights
Art Workshop • Fluid Art • Light Refreshments
The venue
Camana Bay
It is Grand Cayman's most exclusive and recently fashionable shopping destination. It is one of the most crowded tourist attractions on the count of being the home of licensed stores of many international brands, all gathering in Camana Bay. Here you can find the latest fashion for men and women, Caribbean resort wear, designer swimwear, accessories, duty-free watches and jewellery, luxury skincare, cosmetics, bookstores, children's games and toys, amongst many options of entertainment.
Address
Phone
Email
info@camanabay.com
Website
Highlights
N/A
Follow them