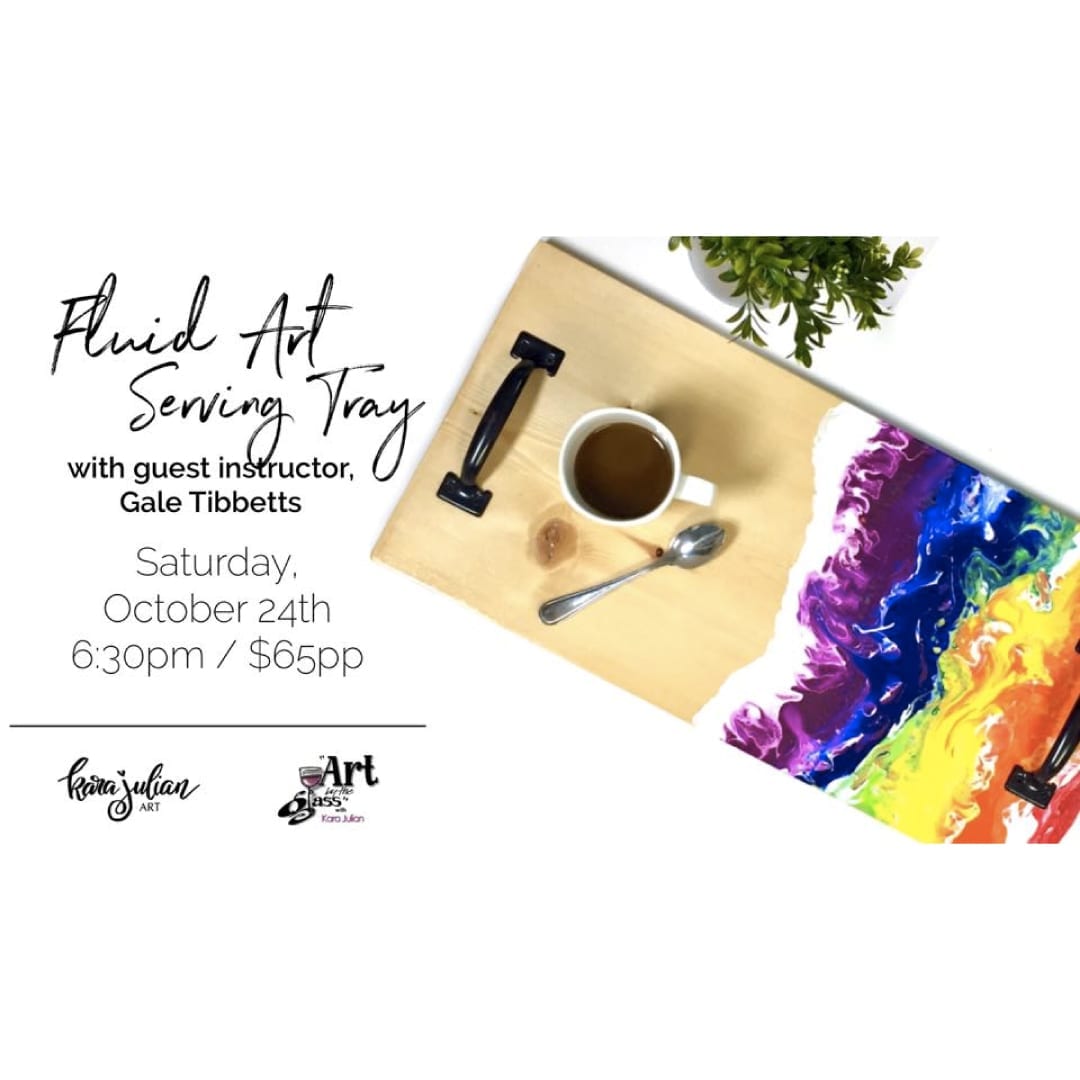 Join us Saturday, October 24th @ 6:30pm as we create this fun and colorful wooden piece to your home decor.
In this workshop, our guest instructor, Gale Tibbetts (who is well versed in fluid and resin art) will guide you step-by-step in recreating this functional serving tray, with a gorgeous abstract fluid-art embellishment.
All wooden trays will be precut for you, so all you have to do is customize with you choice of paint colors, and once dry, attach all hardware (handles)
COST:
KYD$65 per person and include –
• wooden tray & hardware
• paints and pouring mediums
• art instruction by Gale Tibbetts
• tools (torches for creating cells in the paint, etc)
• a yummy charcuterie spread
• complimentary beverages
You will leave at the end of the session with a unique recreation of our fluid-art, functional and decorative piece, after enjoying a fun, upbeat session of "creative play".
NOTE: This particular session is suitable for ages 15 – 96. Budding artists as young as 12 years old, are welcome once accompanied by an adult
Highlights
Art Workshop • Serving Tray Workshop
More info
https://www.karajulianart.com/
The venue
Camana Bay
It is Grand Cayman's most exclusive and recently fashionable shopping destination. It is one of the most crowded tourist attractions on the count of being the home of licensed stores of many international brands, all gathering in Camana Bay. Here you can find the latest fashion for men and women, Caribbean resort wear, designer swimwear, accessories, duty-free watches and jewellery, luxury skincare, cosmetics, bookstores, children's games and toys, amongst many options of entertainment.
Address
Phone
Email
info@camanabay.com
Website
Highlights
N/A
Follow them