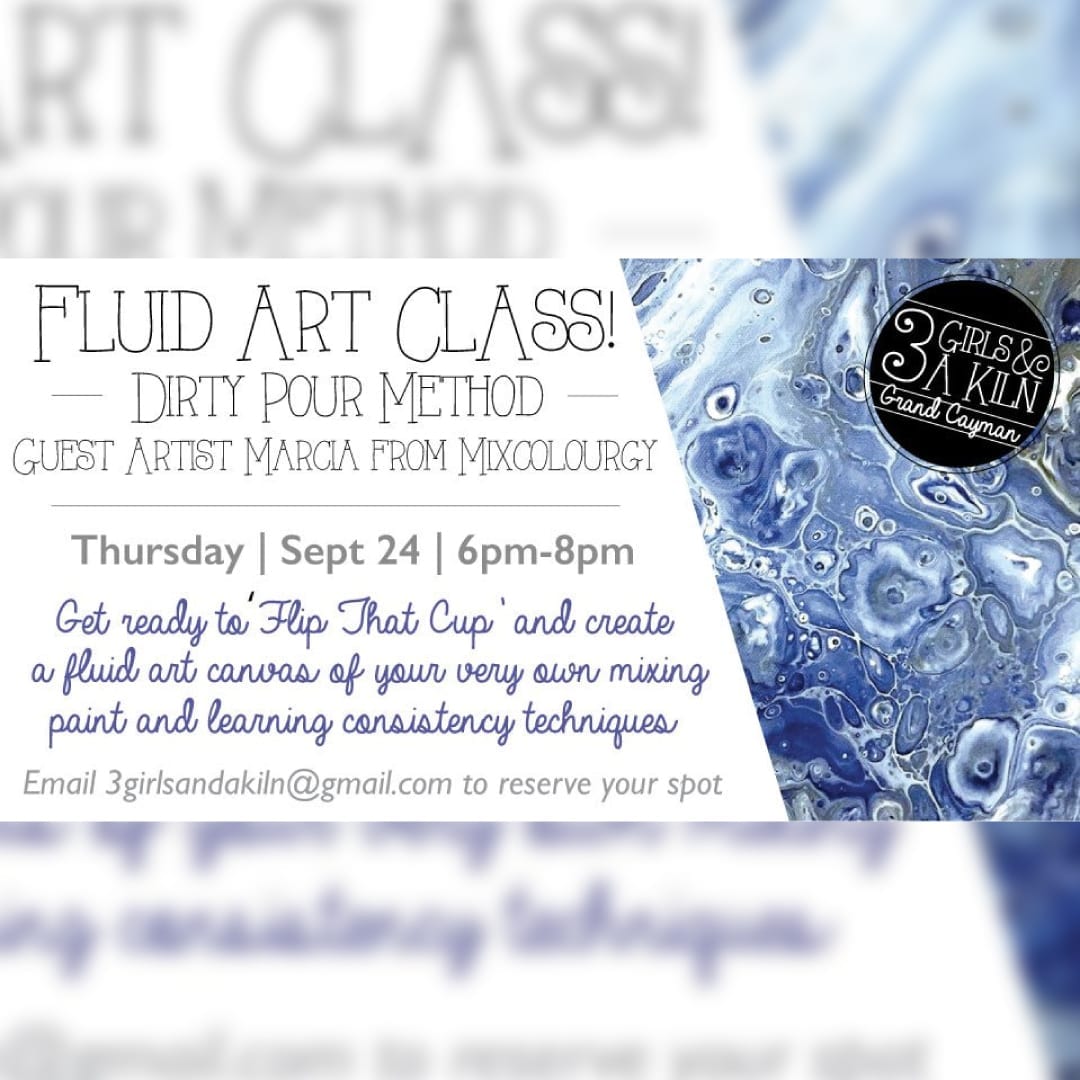 Join the lovely Marcia from Mixcolourgy as she walks you through learning a (dirty pour technique) of Fluid Art. Class attendees will learn how to mix the paint and know what consistency to achieve to make gorgeous fluid art pieces of your very own.
A little bit about Marcia Codner: "I was born in London and raised in Jamaica, I have lived in Grand Cayman for over 22 years. Art and Craft has always been a part of my life and it has only been in the last 2 years that I have taken it seriously.  Doing fluidart helps me to relax and every piece that I do, I am in awe and I hope you will be too."
Canvas, paint and medium will all be provided along with a 4.5 test tile
Cost: CI$60 (an additional CI$10 is requested if you would like your piece resined)
Time: 6:00-8pm
Price includes materials and light refreshments.
Class is for adults 18+Please email us at 3girlsandakiln@gmail.com to reserve your space and to ask any questions you may have about our classes and creative sessions!
Highlights
Art Workshop • Fluid Art • Painting Lesson
More info
3girlsandakiln@gmail.com
The venue
3 Girls and a Kiln
We are an art collective of three artists in Grand Cayman, Cayman Islands. Coming from different art backgrounds, we each bring something new and different to the studio. 3 Girls and a Kiln creates ceramics, paintings and upcycling/repurposing gifts.
Address
53 Market Street Unit 4A
George Town
Phone
Email
3girlsandakiln@gmail.com
Website
http://www.3girlsandakiln.com/
Highlights
Art, Art Lessons, Painting, Workshop
Follow them