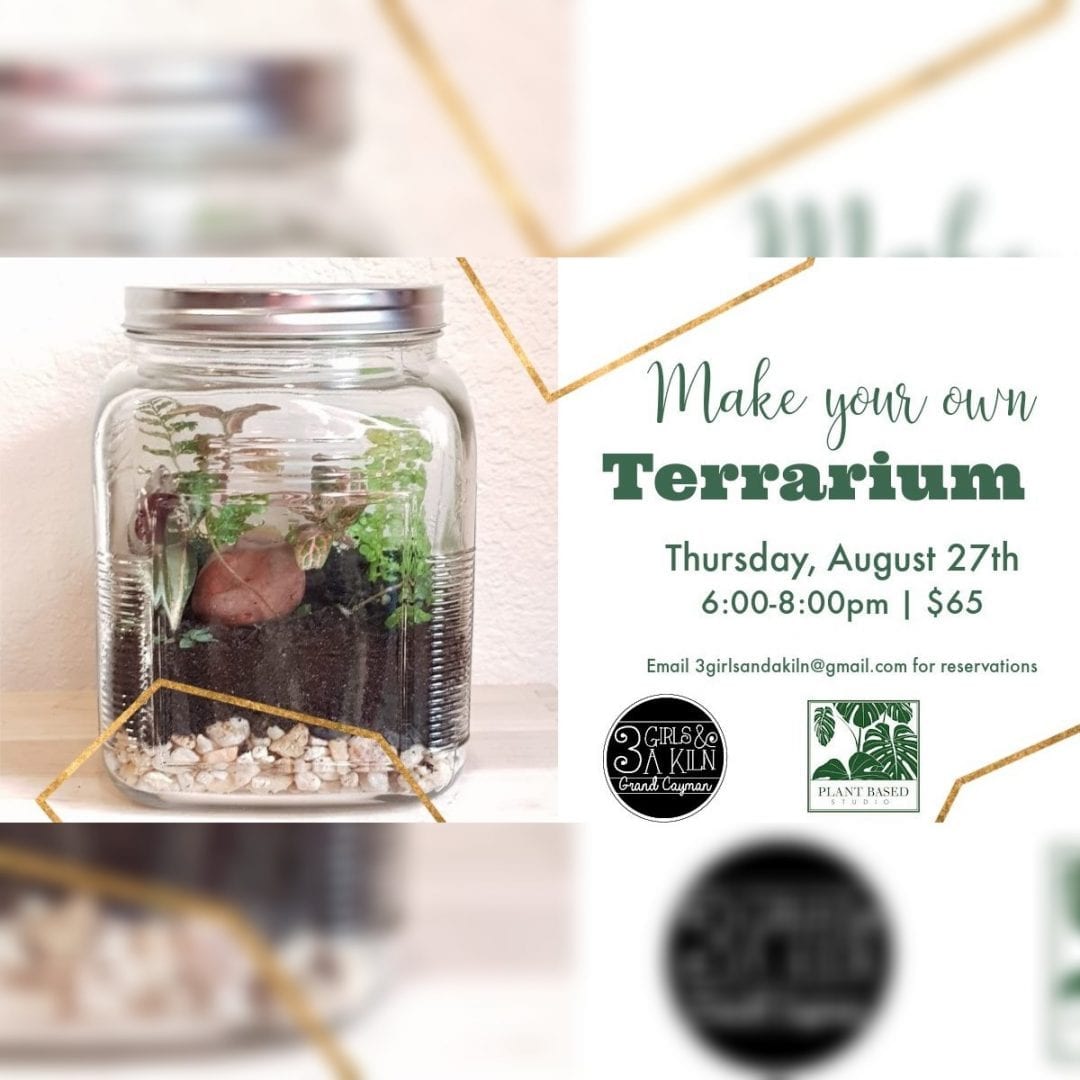 Are you looking for a way to "bring the outdoors in?" Do you think you lack a green thumb and have no idea where to start? Plant Based Studio along with 3 Girls and a Kiln are hosting a workshop that can help!
Learn how to make a closed terrarium in this fun and creative workshop. This terrarium is 92oz!
A terrarium is a sustainable, low-maintenance indoor garden, and is a beautiful addition to office desks, kitchen tables, or other well-lit spots in your home. Make a terrarium for yourself or to give as a gift either way you can enjoy the process of making it.
In this workshop you will be given step by step instructions on how to create and decorate your terrariums. There will materials provided that will allow you to make your terrarium exactly how you want it to fit your space.
All materials will be provided including aprons, glass containers, rocks, pebbles, indoor plants and potting mix.
You will be given all the information on how to care for you terrarium and the plants inside. This is an interactive and relaxing class, and you'll have plenty of time to ask questions. Join us and reconnect with nature!
We encourage you to bring anything you may want to customize your terrarium but keep in mind it will need to fit inside the glass vessel.
Cost: $65 | VIP $60
Time: 6-8pm
Price includes materials and light refreshments.
Class is for teens and adults 13+
VIP discount is not eligible for Take & Make Classes
We look forward to gardening with you!
Contact 3girlsandakiln@gmail.com for reservations and details
Highlights
Art • Closed Terranium • Plant Workshop
More info
3girlsandakiln@gmail.com
The venue
3 Girls and a Kiln
We are an art collective of three artists in Grand Cayman, Cayman Islands. Coming from different art backgrounds, we each bring something new and different to the studio. 3 Girls and a Kiln creates ceramics, paintings and upcycling/repurposing gifts.
Address
53 Market Street Unit 4A
George Town
Phone
Email
3girlsandakiln@gmail.com
Website
http://www.3girlsandakiln.com/
Highlights
Art, Art Lessons, Painting, Workshop
Follow them