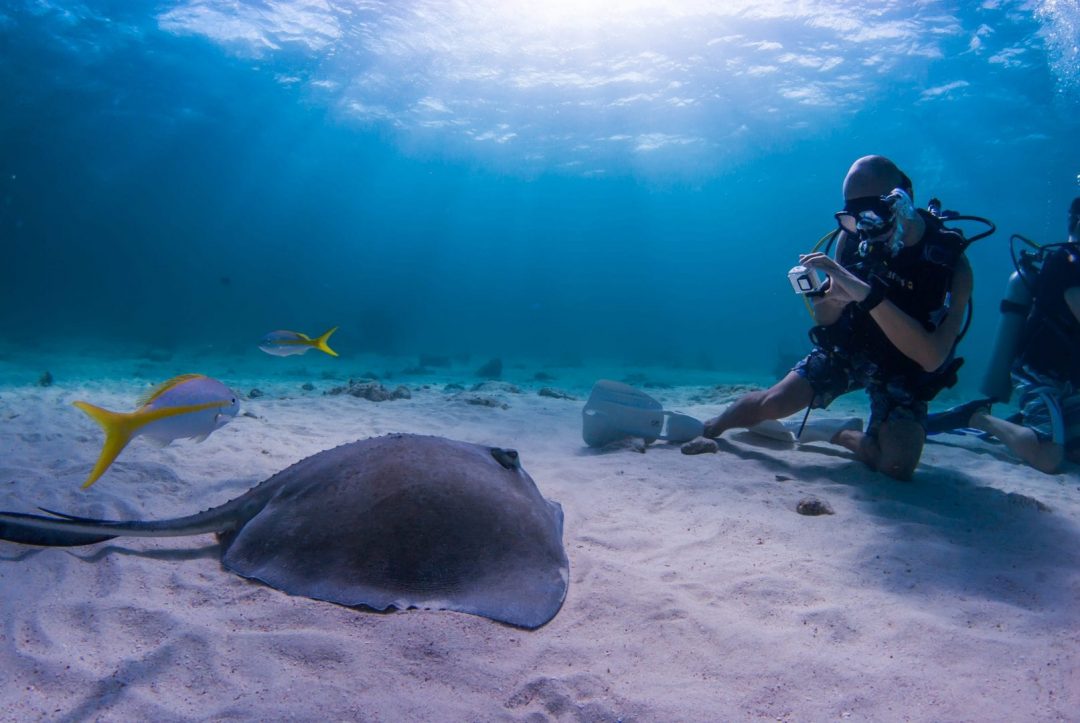 GRAND CAYMAN KITTIKAWE AND REEF SAIL ON A CATAMARAN
Red Sail Sports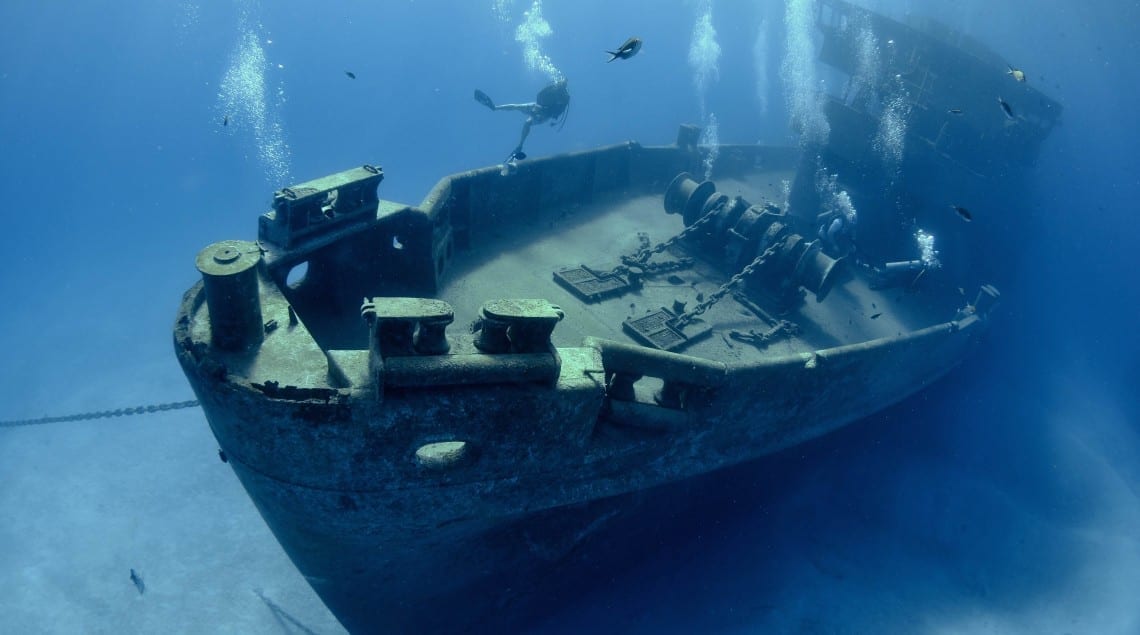 Catamaran services are for hire constantly. They do snorkelling tours while offering refreshments, a cash bar available and some even have gourmet chefs on board. Sailing for the Kittikawe shipwreck means you will get the chance to dive around the sunken USS Kittikawe; a huge vessel that sank off the coast of Grand Cayman years ago, filled with coral and fish. Next stops include fantastic coral reefs with abundant and rare sea life. All along the way, thoughtful commentaries from the local guides. You can book the Catamaran for the hours and quantity of people you desire. After all the activities have passed; you can relax, grab a snack and have a drink while watching the sunset on top of the boat. People never get tired of this. Red Sail Sports
---
SCUBA DIVING LESSONS FOR BEGINNERS
Grand Cayman Resorts
Your trip to the Caymans can be a total waste if you do not partake in any diving or snorkelling. Not knowing how to do it isn't an excuse, for Grand Cayman is widely known to house a collection of the best divers and swimmers around the world. In these lessons, you will receive theory and practice. Before jumping to the sea, the student will practice first in a pool for you to master every safety measure. This is ideal for the people who don't have the time for a full certification course. When you get in the sea, a professional crew will be watching your back all the way. Be prepared to meet some illustrious sea turtles, stingrays, tropical fish, manta rays, eels, and much more! Scuba gear and transport are included.
---
KITESURF LESSONS
Kitesurf Cayman
If you can swim, then you can kitesurf: that's the motto of kitesurf instructors. Kitesurfing is an activity for all ages (surprisingly, elders fair well in this sport); it is a chance to embark on something different and new over your holidays. There is a maximum of 2 students per lesson, in order to share the equipment. You will be able to learn the basics of kitesurfing in an open, broad and safe space; destined just for the teaching of practical aspects of kiting. Those who try it and succeed, become addicts of the sport immediately. You will be provided with sunscreen, u-v shirts or t-shirts for sun protection and all necessary equipment. Free pick-ups at Seven Mile Beach, West Bay and George Town. Kitesurf Cayman.
---
EXPERIENCE STINGRAY CITY
Grand Cayman
Swim, snorkel sail, pet, admire, and feed the stingrays. Most Grand Cayman water activities derive from the example of Stingray City, or at least, start their particular tours from this site. As you jump in the water, the guides will provide you with some bait to feed the stingrays. The Stingrays are calm and usually swim around the person who is doing the feeding. Afterwards, most tours and day cruises often take tourists tothe Coral Gardens or the Barrier Reef; perhaps because both sites experiment with direct interaction with sea life. There's always an onboard photographer ready to capture memorable images. Cayman Crystal Charters
---
PARASAILING
Parasailing Professionals Ltd.
Witness incredible views of Seven Mile Beach and Grand Cayman at 400ft in the air. This ride lasts for about 10 minutes on the air. If you're a serious photographer, then this activity is a must-do for you! Panoramic views of the beach are priceless. Note that this parasailing excursion is dependent on the weather though: if it's too windy, for your safety, you will not be able to parasail. This is a great experience that will manage to renew your energy and relieve you of any stress. Parasailing Professionals Ltd.
---
GLASS BOTTOM BOAT TOUR
Grand Cayman
You will find many providers for this attraction. Destinations for this tour are often Stingray City or Coral Garden, mostly because of the popularity and activity that can be seen through the underwater glass dome-like floor of the boat. Watch the marine life at first hand, face to face beneath your feet, and all around you. The ship is entirely glass-bottomed so you can contemplate everything through clear viewing windows. When the ride's over, the passenger can take a break and get into the water, indulge in some snorkelling or just get their feet wet. Atlantis Submarines , Sealand Adventure Tours
---
DEEP SEA FISHING/REEF FISHING
Cayman Offshore Adventures
A private fishing charter just for you, your mates and the Captain of the boat. Enjoy the crystalline sea and the wonders that lie underneath. Explore the Cayman's waters to reel the fish of a lifetime. Have a fantastic time on the water, having drinks with your friends while sharing some sportsmanship. Do all kinds of Deep Sea Fishing (Marlins, Tuna, Wahi Wahi), Deep Drop Fishing (about 1000 feet), Reef Fishing (fantastic coral formations and home to Barracuda, Snapper, Grouper). When you're all done, order the Captain to get you to Stingray City or Starfish Point and visit the group of Red Cushion Sea Star. Later, you can finish at Kaibo by the sea or Rum Point, to celebrate the catch of the day. A dreamed tour meant only for fishing fanatics. Cayman Offshore Adventures
---
JET SKI TOURS
Ebanks Watersports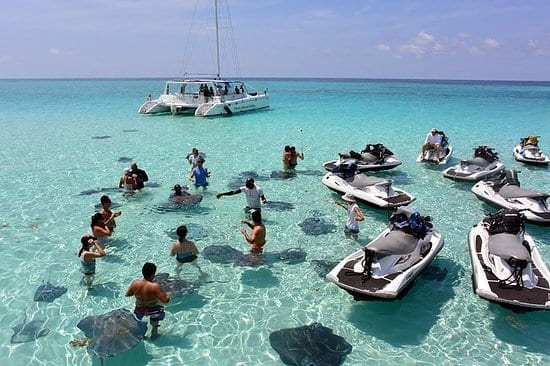 These people have been in the business for over 20 years, specialising in Jet Ski tours. They are the pioneers of a heavenly combination between breaking waves with a jet ski, and stopping to do some snorkelling. Admire the breathtaking coral reefs and colourful Caribbean fish while you transport yourself to each site at high speed. First stop: Starfish Beach. See and touch the gorgeous Starfish. Next: Stingray City; as you come close to the sandbank, some very friendly Southern Stingrays will make their way so you can feed them. Only in the Caymans…
---
KITESURF GEAR RENTAL
Barker's Beach
Besides teaching how to kitesurf, the guys at Kitesurf Cayman also function as a rental service for those who already know how to kitesurf. Kitesurfers have been making kitesurf pilgrimage to the Caymans for quite some time. It includes the rental of the board, harness, lines, bar and kite; up to four hours of duration. Barkers Beach has perfect conditions for kitesurfing: flat water, expansive and calm, dedicated for those who can do tricks or who possess a certain level of difficulty. Complimentary pick-ups or drop off at hotels in Seven Mile Beach, West Bay or George Town are available. Kitesurf Cayman
---
SNORKEL SAFARI TOURS
Ebanks Watersports
You will ride to The Barrier Reef on jet skis. This spot is maybe one that excels amongst others for the variety of marine life that makes home inside the large reef. Caribbean fish, exotic plant formations, conch, lobsters, different kinds of coral and much more. Ebanks Watersports