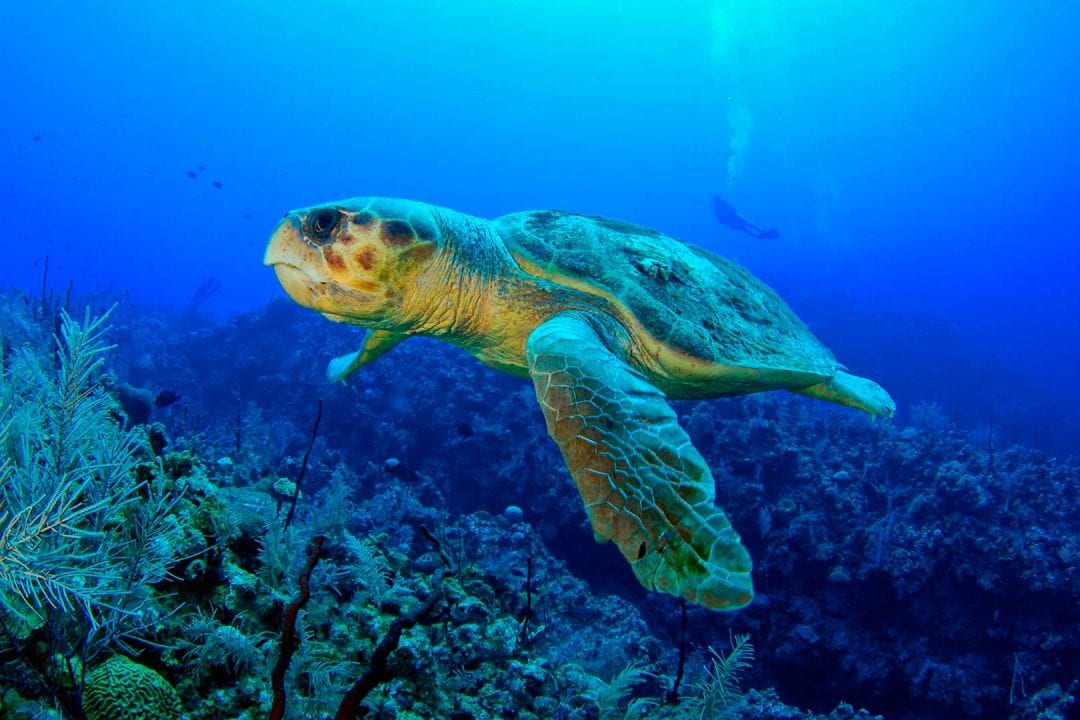 BEACH BAY
Bodden Town
One of the sandiest beaches in the Cayman Islands; secluded from the city. About a mile of Bodden Town (previous capital of the Cayman Islands), Beach Bay it's a man-made lagoon with depths that range between 7 to 40 feet. A big reef surrounds the beach. It is recommended that you should snorkel on the shore side of the reef (especially beginners), and not on the outside, weather can sometimes present itself as harsh and wavy on this side. The massive reef harbours species like Damselfish, Tube Worms and Shrimp. Turtles and Stingrays also roam the site.
---
CHEESEBURGER REEF
George Town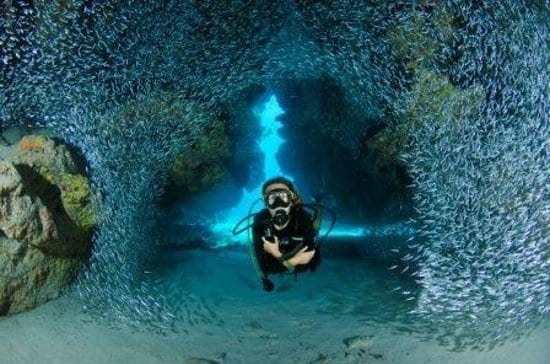 The reason for this "casual" name, is that besides this reef functioned a well-known fast food establishment in George Town. A small cove conceals a "Cheeseburger Reef" beach. For some divers and recurrent snorkelers, it is one of the most beautiful reefs you could ever explore in Grand Cayman. The natural structure of the coral formations, rising from 40 feet below water to 10 feet above the water, give shelter to many marine specimens: Sea turtles, Tarpon and Stingrays are recurrent.
---
WRECK OF THE GAMMA
George Town
Shipwreck diving excursions are unique and inspiring. For the snorkeler who gazes at them for the first time, they are mind-blowing. The stories surrounding these dying vessels show us that even material things can become immortal. It seems that fish and crustaceans love to use shipwrecks as a home. The usual fish at this site are the Yellowtail Snapper and French Grunts. Lots of Star and Brain Corals, decorate the skeleton of the freighter. This is a 200-foot ship that sunk during a storm in 1980. You can actually spot the wreck from Seven Mile Beach, as part of the ship extends out of the water.
---
CEMETERY REEF
West Bay
A lot of speculation arises as to the reason for this name. There is a cemetery nearby, which probably made it easier for people to give directions to arrive at the beach. It is another sandy beach, with Australian pines casting plenty of shade. About 70 yards further, the coral encrusted boulders start appearing beneath the water. Fish like Grunts, Yellowtail Snapper, Black Sea Urchins and Bermuda Chub thrive in these corals.
---
WRECK OF THE CALI
George Town
Lying within 20 feet of water, the MV CALI was a four-masted schooner from Scotland. Christened in Hawaii, it went on to change its name and original parts numerous times. Diesel engines were added in 1926 and were considered as an upgrade. Ironically, this is what started the ship's demise. The engines began to shake constantly, in a vessel that wasn't made for that kind of activity. In 1948, the Cali developed a leakage, and a fire broke out. The cargo was reduced to ashes, and the complete engine room blew out. It has stayed ashore ever since, slowly becoming a skeleton for corals, sponges and sea fans. The whole ship is a home for Squirrelfish, Yellowtail Snapper, Turtles and Stingrays.
---
ANCHOR POINT THERMAL VENTS
East End
It will be a very tricky location to get to; but when you do, you'll find at the end that it was worth it. Unique landscapes. The area is mostly iron shore, and once you smell the sulphur on the air, it means you're close. Sulphur goes up through vents on the ocean floor. It is actually Solfatara (a mix between Sulphur and Steam). Disclaimer: this is not a "common" snorkeling spot. There's even yellow smoke rising up from the sea; and interestingly enough, more plant life grows in these yellow smoking areas. Overall, more marine vegetation than actual living specimens, but way more interesting than regular marine plants you would find in any other snorkeling spot. You can find Brain, Star and Elkhorn Corals, and some Tarpon presence. A rare and surreal place.
---
TURTLE FARM
West Bay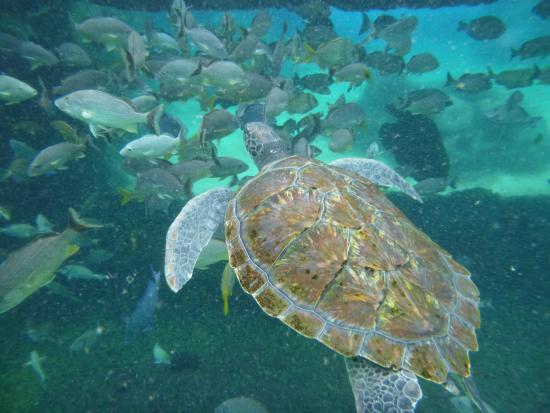 This site is right next to the Turtle Farm. The diver enters a small cove area where banks of juvenile fish swim quickly as they feed off the corals. Turtles are sure to be noticed; especially those who were raised and released from the Turtle Farm, you can spot them because they are marked.
The turtle farm was created to somehow take a stance against the decline of the sea turtle population was experimenting. One of the big attractions of the site is the incredible Parrotfish, impressive in size and colouration. You can actually hear them eat the coral beneath the water.
---
RUM POINT
North Side
This area is part of a marine sanctuary; so first off, you need to obey the "don't touch, don't take" policy. A barrier reef is parallel to Rum Point's shoreline with a depth of 15 feet to 40 feet. There are about five different snorkelling sites in Rum Point; it gets so big that you will need about two weeks to see all of it. However, if you must choose, snorkel in the inside portion of the reef. It is much richer to see and encounter Caribbean fish like the Black Durgeon, Blue Tangs, and the Yellow Snapper, who will actually swim along with you. Other species to find are the Cushion Starfish and Eagle Rays; mostly on sandy areas.
---
WRECK OF THE PALLAS
George Town
The Pallas was a Norwegian ship that had its final journey from Buenos Aires in 1910 and intended to reach the Mississippi. A violent hurricane trapped the ship. It drifted to where it would remain to this day: close to Seven Mile Beach. The wreck is entirely distant from shore, so the best way to visit the site is by boat. We recommend you to do it through a local snorkel tour. The Pallas is home to many corals, and Blue Tangs, Yellowtail Snapper and Angelfish. Some parts of the freighter extend above the water also.
---
STINGRAY CITY
Grand Cayman
Yes. We cannot get enough of Stingray City. Snorkeling in the Cayman Islands is never complete without visiting this location. The Stingrays have been bottom feeders since the fishermen tossed out what was not usable as food from their catches. The stingrays feasted on it, a tradition that continues to this day. Stingrays usually feed at night, covered. Nevertheless, when Stingray City became a tourist spot, they stop needing night's camouflage to hunt for food. The stingrays have eaten so much food, that they have grown an extra large size, well above the size average of the species. With your snorkel gear on, interact with them and get to know them. Just do not tease them! They can defend themselves very well! Important: we recommend you book a tour operator. They are some of the guides who know the Stingrays really well and know how and when to feed them, etc.