SEVEN MILE BEACH
Grand Cayman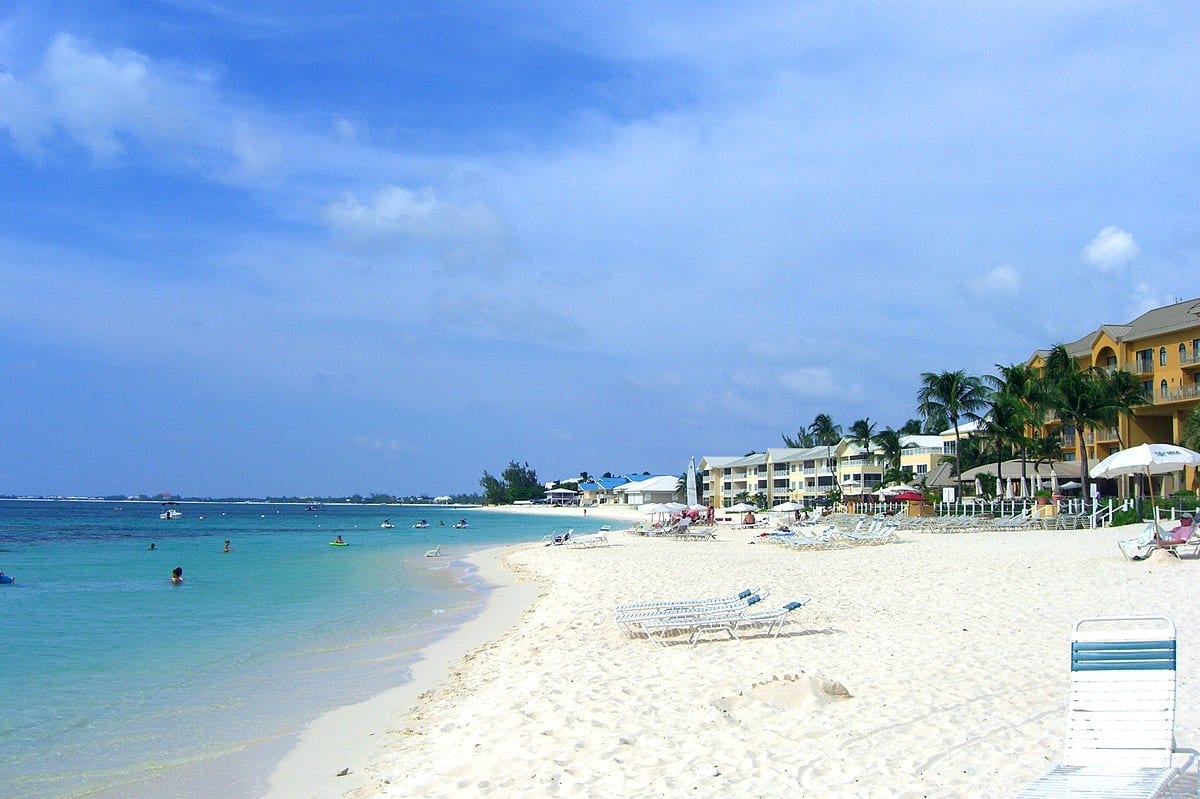 The busiest beach resort district of anywhere else in the planet is Seven Mile Beach. The turquoise waters of Seven Mile Beach are host to a busy line-up of luxury hotels, restaurants, shops, and beach bars. It stretches to 5.6 miles, so there's room for anything: Quiet spots for relaxing or snorkelling, as well as people partaking in water sports like parasailing or volleyball; or the occasional drinkers and party people at the beach bars and waterfront restaurants. Despite the increasing activity, Seven Mile Beach has never lost its natural looks and has never seemed contaminated. How do they pull it of?
---
EAST END BEACH
Grand Cayman
Also known by the name "Collier's Beach", it is usually sought out because of the solitude you can get; a relaxing point to watch the sunrise or sunset, have a family picnic or indulge in a romantic getaway. On many weekends, this quiet spot becomes a venue for concerts and events. It's not a great beach to swim in, as there is abundant turtle grass in the ground which forms a vital ecosystem filled with fish like Mahi Mahi or Snapper. It also has a big parking spot and a boat ramp.
---
SANDY POINT
Little Cayman
A.k.a. Point in Sand. Private, secluded, and great ecosystem for snorkeling. Located in the East coast of Little Cayman, the beach gets its name due to the wide soft sandbanks that cover the territory. If what you are looking for is a great swimmable site, not crowded; this is a great pick. In this spot, you can find a couple of food vendors that offer quick lunches, cold drinks and other stuff. Sandy Point is not a great option to visit with little children, as there aren't any restrooms nearby.
---
RUM POINT
Grand Cayman
The Cayman's favourite spot for all ages. Located on the North Coast, it takes its name after the fact that a shipwreck left tons of Rum barrels at shore during old pirate days. The usual way to arrive is via catamaran or a 50-minute drive from your resort area. It's the most photogenic beach you can imagine (the typical postcard image, especially the pier) where you can hang a hammock while watching others enjoy the various water sports activities that Red Sails Sports has to offer (they have a shop on-site). It is also home to one of the most famous Beach Bars: The Wreck Baris; and many more restaurant options. You wouldn't want to miss out on this.
---
SEA FEATHER BAY
Cayman Brac
At first sight, it's a modest spot at the South East Coast of the Island. Somewhat less active than Rum Point; but still, very enjoyable. Sea Feather Bay is in the most natural area of Cayman Brac. With the except of a few villas, it is entirely isolated. The waters are a little rough, so be safe and exercise caution when swimming. There are no public restrooms. Christopher Columbus Gardens are close to it, as well as the Cayman Brac Museum. So why not enjoy a day at the Museum and then hit the beach?
---
SPOTTS BAY
Grand Cayman
You can find it off Shamrock Road, in the Spotts Newlands, away from the city. Very much different from the Island's pristine and photogenic classic beaches, Spotts Bay is surrounded by iron shore cliffs and barrier reefs. A great place to enjoy with children, especially for the building of sand castles and similar family activities. Not a very popular tourist spot, but more of local gatherings. You will often see people making barbecues and picnics on weekends, or else, renting cabanas or condominiums on the waterfront.
---
CEMETERY BEACH
Grand Cayman
Cemetery Beach is one with an easy access for snorkelling from the shore. You can see there fantastic coral gardens and tropical fish at no more than 15 feet from the surface, in very shallow and calm waters. These are deep blue and contrast the pale white sands from the land. Cemetery Beach balances a proper amount of popularity, with intimacy and natural beauty. There aren't many flora or palm trees that provide much shade so, bring your umbrella!
---
BRAC BEACH REEF
Cayman Brac
This great spot offers activities like kayaking, fishing, diving and snorkelling, all on-site (being a part of the Cayman Brac Beach Reef Resort). It is popular amongst tourists, especially those who are eco-friendly or marine life aficionados. The divers can see a rare collection of fishes and different sea creatures; even rare in the entire Cayman Islands. Common beach facilities are available: tables, cabanas, hammocks and a very special seaside swing. This site is more inclined to the taste of lovers of nature, than to tourists seeking fun or partying.
---
BLOODY BAY BEACH
Little Cayman
Located within a marine park (Bloody Bay Park), it is THE spot for professional and amateur divers to marvel alike. Despite the name, its beauty is unprecedented, even by other beaches in the Caymans. Many adventurers travel specifically to Little Cayman to get a glimpse of the first reef and the deep drop below sea level (from 20 feet up to 5000 feet). Psychedelic coral reefs and tropical fish; also stingrays, turtles and the occasional friendly shark can be found.
---
OWEN ISLAND
Little Cayman
It is the deserted beach of your dreams. A little island 200 yards away from the southwest coast of Little Cayman. This trip is for adventurers. The only way to reach the islet is by sailing or kayaking. Many visitors go to chill out or to disconnect themselves from the crowded city life. A profound silence makes you indulge in a meditative tranquillity state, either you want it or not. The water is calm, and there aren't residents whatsoever as well as any habitable structures nearby. No one could break your serenity here.